Hey peoples.
It is ridiculously hot today. Probably because it is currently 1pm, and I woke up about 11am.... It's still hot. I hope that yesterdays recipe was good. Because today I'm coming back with something that will be perfect to sip on today and it is just a skip over from the pond.
Today I'm going to post up a recipe for Thai iced tea. This stuff is amazing, just as sweet and refreshing but no where near as huge of a caffeine hit. Which could be a good thing if you are worried about lying wide awake at 3am in the morning.
The drink is similar to the Vietnamese coffee from yesterday because it is also chilled with lots of ice and sweetened with condensed milk, milk and coconut milk for extra flavour and depth. There isn't much to the recipe once again, but let's get started.
Ingredients
100g thai tea mix (OR 4 black tea bags)
60g sugar
1 L boiling water
A LOT of ice cubes
100ml condensed milk
100ml coconut milk
100ml evaporated milk
Method
1. Boil water in a saucepan and place in the tea and sugar.
2. Boil for 3 minutes before letting the tea steep for 40 minutes off the heat.
3. Strain tea into a bowl and dispose of tea leaves.
4. Fill your serving glasses with ice
5. Mix various milks together
6. Fill glasses 3/4 up with tea
7. Fill up the rest of the glasses with the milk mixture
Serve ice cold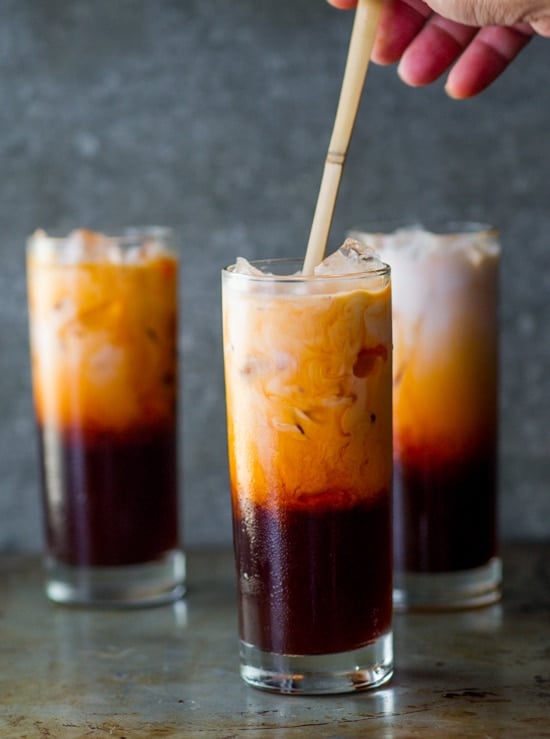 And there you have it, another ice cold drink to sip on in this 30 degree weather. It is supposed to only be spring, what is this?
This drink is delectable throughout the year but hits all the right spots in summer, so go for it and make a huge batch at home and leave it chilling in the fridge to enjoy at your own discretion.
I hope that you have liked the recipe because I'll be back with more tomorrow. I can't believe it's already been 3 days :/