Hey guys, so I am back with another post today. I hope that you guys tried out the Yugwa recipe from the last post, because I did and it turned out quite nice.
It has been quite cold in Korea and where I am lately so I thought that I should post a recipe that is sure to warm you up from the winter chills. Where I am from and in Korean both share an abundance of one type of food, and that is seafood. So today I am going to introduce to you a recipe that is going to use seafood and warm you up.
Today it is going to be just one variety of seafood stew that can be made in winter. It is going to be Hot Spicy Fish Soup or 매운탕. This is mainly more focused on putting fish into a spicy soup that is made more refreshing by the addition of radish and other vegetables such as green onions and chilies.
The origins of the name is that the name is a combination of two words: maeun, which derives from maepda (맵다), meaning "hot and spicy"; and tang, meaning "soup."
The dish itself is quite easy to make if you have prepared all the ingredients beforehand.
Now, for my version of spicy fish soup.
Ingredients
2 trouts whole (12-14 inches)
½ cup radish, thin sliced
2-3 red chilies, cut in slices
3 green onions, cut in a slices
100g tofu, cut into sqaures
6 tbsp gochujang
1 tbsp soy sauce
2 tbsp gochugaru
3 tbsp minced garlic
3 tbsp salt
6 cups water
Method
1. Scale and wash the fish, then verticall
y cut into several pieces.
2. Put water in a pot, start boiling.
3. Add gochujang, gochugaru and soy sauce. Bring to a boil.
4. Add radish, squash, half of chilies, keep cooking on a medium heat for 3-4 minutes.
5. Add fish, tofu and garlic.
6. Heat until fish is completely cooked. Add salt to taste.
7. Add green onions.
8. Cook for another 1-2 minutes.
9. Serve hot with white rice.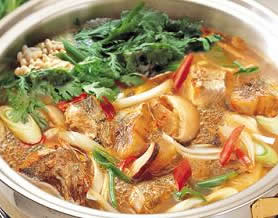 So there you go guys, a nice spicy soup that will be sure to warm you up this winter. And if you like shell fish you can always add them in too to help provide a refreshing taste.
I'll post again soon. Stay healthy and be happy.